BitLocker encryption stuck/frozen, what to do?
I upgraded to Windows 10 Pro and used BitLocker to encrypt my 1TB external hard drive which has about 500GB of data on it. The encryption seems to be stuck at 80% for the past two hours. Any suggestions?
Solution 1: Wait
We suggest you to wait and see if it encryption continues.
Solution 2: Terminate and encrypt again
If you wait for a long time and the encryption doesn't continue, terminate it and encrypt again.
Step 1: On BitLocker Drive Encryption window, click on "Pause" to pause BitLocker encryption and then click on "Manage BitLocker".
Step 2: Click on "Turn off BitLocker" to turn off BitLocker encryption.
Step 3: Type CMD in the Windows search bar.
Step 4: Right-click on cmd.exe and choose "Run as Administrator".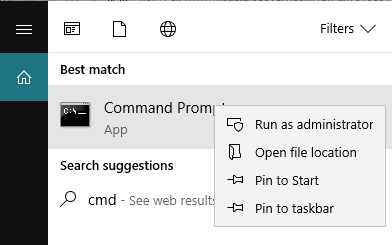 Step 5: Type chkdsk driveletter: /f and hit Enter to fix the logical errors.
Step 6: Encrypt this drive again.
Solution 3: BitLocker data recovery
M3 BitLocker Recovery is a professional BitLocker data recovery software which can recover data after BitLocker encryption stuck, frozen, failed, interrupted, etc.
Tutorial to recover data after BitLocker encrption stuck/frozen
Step 1: Download, install and launch M3 BitLocker Recovery on your computer.
Step 2: Choose BitLocker Recovery module, select the corrupted BitLocker encrypted drive and then click Next to continue.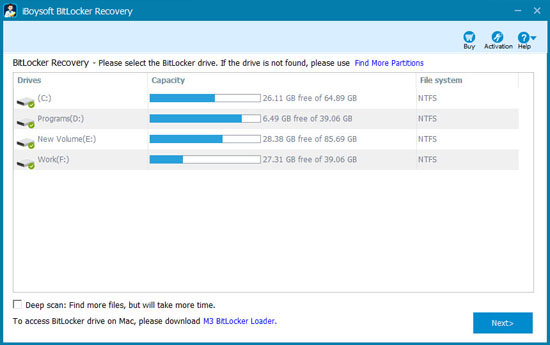 Step 3: Enter the password or 48-digit BitLocker recovery key and click Ok.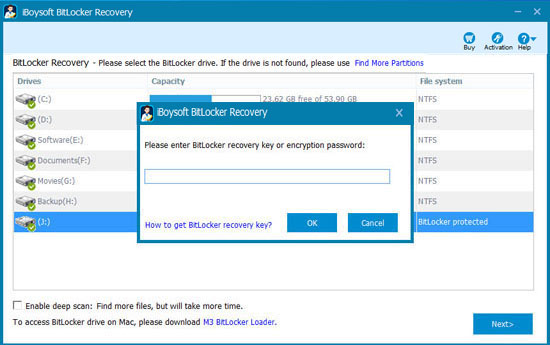 Step 4: Scan the lost data from corrupted BitLocker encrypted drive.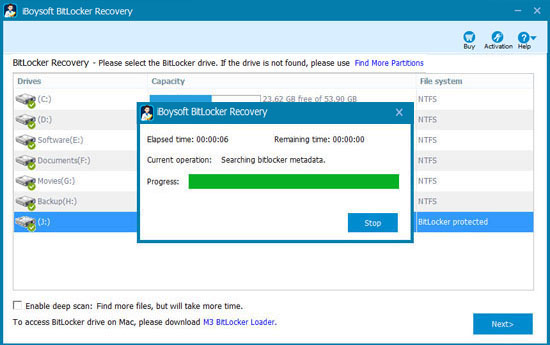 Step 5: Once the scan is complete, you can preview documents, photos and play videos, audio to determine if your lost files are recoverable.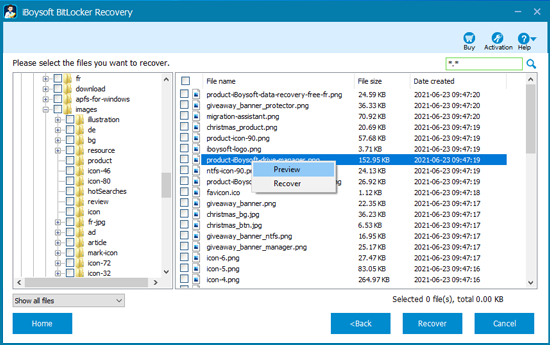 Step 6: Select the files you need and click Recover to start data recovery from corrupted BitLocker encrypted drive.
Step 7: Manually check the recovered files. If some recovered files cannot be opened, check "Revert decryption" option under Help menu and recover them again.
Related articles: