Deleted file recovery: How to recover deleted files in Windows 10?
I deleted some important files after upgrading to Windows 10? How to recover deleted files in Windows 10?
Solution 1: Recover deleted files from Recycle Bin
If you simply deleted files by moving them to the Recycle Bin and didn't execute "Empty Recycle Bin" operation, you can restore deleted files with ease.
Step 1: Open the Recycle Bin.
Step 2: Locate and right-click the files you want and choose "Restore", the deleted files will be restored to their original location.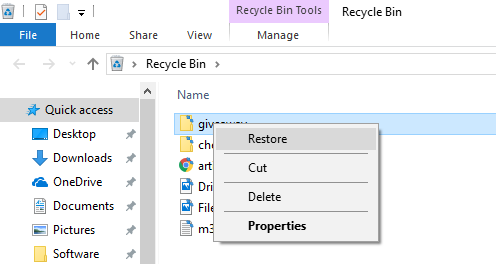 If you have emptied the Recycle Bin, please go to solution 2 and recover deleted files.
Solution 2: Recover deleted files with data recovery software
When a file is deleted from your computer or emptied from Recycle Bin, just the file entry is erased from your computer, its contents isn't immediately destroyed, Windows simply marks the hard drive space as being available for use so that you can write new files. If you manage to start an undelete process before Windows uses that part of the hard drive to write a new file, all you have to do is set that flag back to "on" and you get the file. Obviously, the sooner you try to recover deleted files, the more successful you'll be.
Free data recovery software
The easy way to recover deleted files in Windows 10 is to download a free deleted file recovery software - M3 Data Recovery, it is a professional data recovery software which can recover deleted files even if emptied from Recycle Bin, recover data from formatted drive, recover data from inaccessible drive, recover data from RAW drive, recover data from deleted or lost partition, recover data from Bitlocker encrypted drive, recover data lost due to virus attack, operating system crash, etc.
The keys to recover deleted files in Windows 10
1. The deleted files have not been ovewritten by new files, especially for deleted files from C drive, so please don't write new data to the drive after accidently deleting files, otherwise, there is no way to recover deleted files once they are overwritten.
2. Thd disk storage space doesn't have disk fragment. If the file system is FAT32/exFAT and the deleted files are large files (such as videos, audios), it is diffcult to recover these large files if the disk space has disk fragment, so please store the large files in the drive which is formatted with NTFS file system.
Tutorial to recover deleted files in Windows 10 computer
Step 1: Download and install M3 Data Recovery software on your computer.
Step 2: Launch M3 Data Recovery software and then choose Data Recovery module.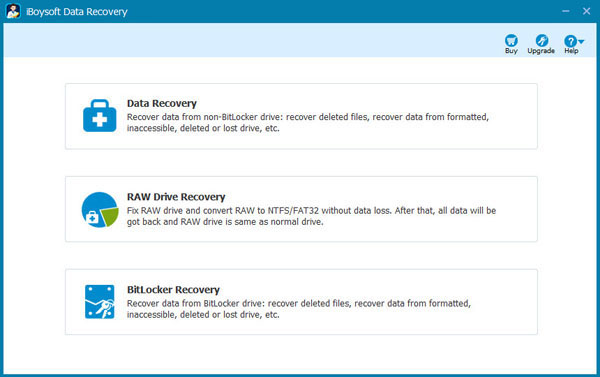 Step 3: Choose the drive where you deleted files and then click Next to quickly scan the deleted files.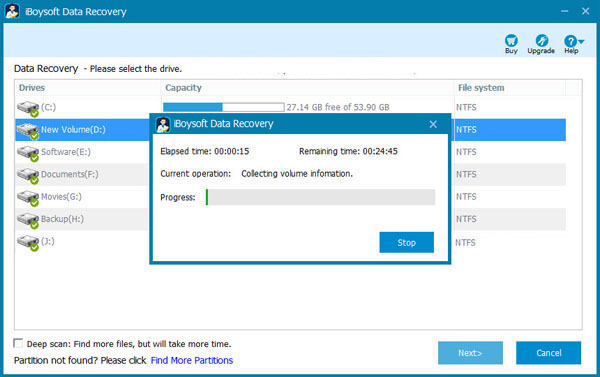 Step 4: After the scan completes, please select "Only show deleted files", select the files you want to recover and then save them.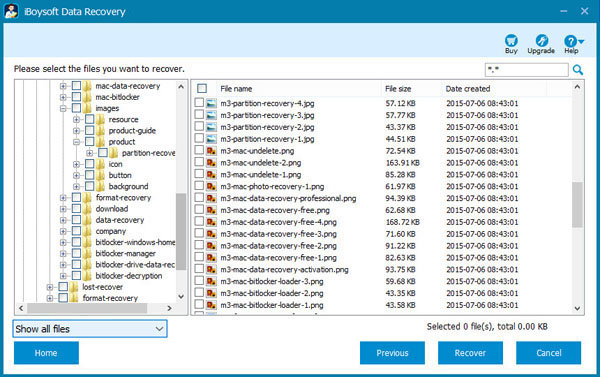 If the deleted files are not found after quick scan, please try deep scan to find more files.
Related articles: