Bitlocker encrypted USB drive is not readable on macOS, how to open/access it?
I have read BootCamp does not read MS Bitlocker. Our company has started to enable BitLocker on the enterprise computers, now I can't read/write documents on my iMac anymore. Any solution which can read Bitlocker USB drive on macOS?
The answer is YES. Although operating system only has Windows which can read BitLocker encrypted USB drive or external hard drive. But there is a Bitlocker for Mac tool called M3 Bitlocker Loader for Mac which allows you to read Bitlocker encrypted flash drive on macOS Mojave/High Sierra/Sierra and Mac OS X El Capitan, Yosemite, Maverick, Mountain Lion, Lion.
Notes: M3 Bitlocker Loader for Mac requires a healthy Bitlocker encrypted drive. If your Bitlocker encrypted drive is corrupted, please try Bitlocker data recovery software: M3 Bitlocker Recovery in Windows to recover data from corrupted Bitlocker encrypted drive.
Tutorial to read Bitlocker encrypted USB drive on macOS computer
Step 1: Download, install and launch M3 Bitlocker Loader for Mac on your Mac computer.
Step 2: Insert a Bitlocker encrypted USB drive.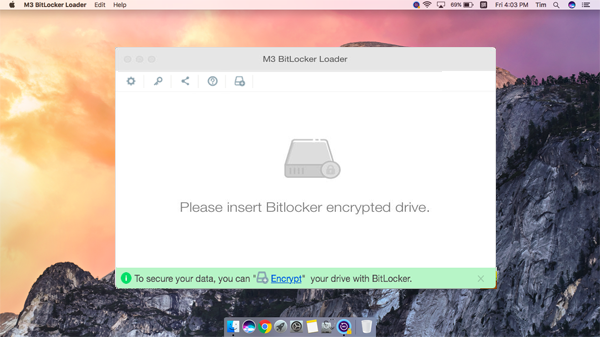 Step 3: Select Bitlocker encrypted USB drive which you want to read and click "Open" icon to continue.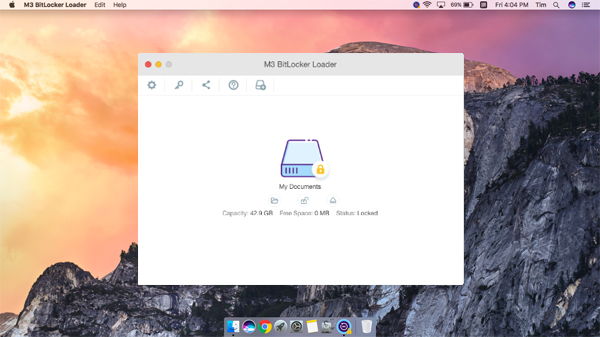 Step 4: Enter the password (or 48-digit Bitlocker recovery key) and click "Unlock" to unlock Bitlocker encrypted USB drive.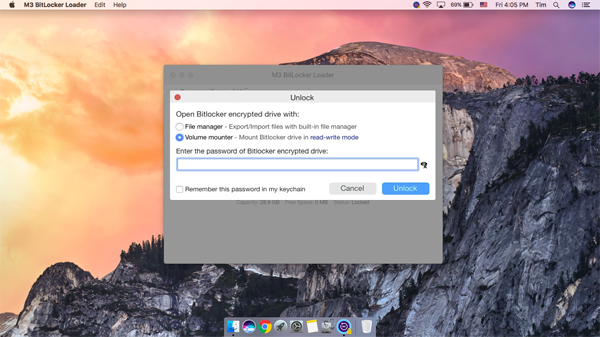 Step 5: Select the files on Bitlocker encrypted USB drive you want to export and then copy them out.