AppleAPFSMedia uninitialized, how to fix and recover data?
I have a 2TB external hard drive with APFS encrypted. One day I inserted it into Mac computer and find encrypted APFS media is uninitialized in disk utility. There are many important documents stored in it, how to recover lost data from uninitialized APFS drive?
Although Apple has released APFS file sysem several month, but up to now, there are a few software which can support APFS data recovery in market due to technical difficulty, M3 Mac Data Recovery is such a APFS data recovery software which can undelete files from APFS drive, recover data from formatted, corrupted, unreadable, unmountable, uninitialized APFS drive, recover data from deleted, lost, misssing, disappeared APFS partition, recover deleted or lost files from encrypted APFS drive, etc. on macOS Catalina 10.15/Mojave 10.14/High Sierra 10.13/Sierra 10.12/10.11/10.10/10.9/10.8.
Tutorial to recover data from uninitialized AppleAPFSMedia
Step 1: Download and install this APFS Data Recovery software on your Mac computer.
Step 2: Run this APFS Data Recovery software - M3 Mac Data Recovery.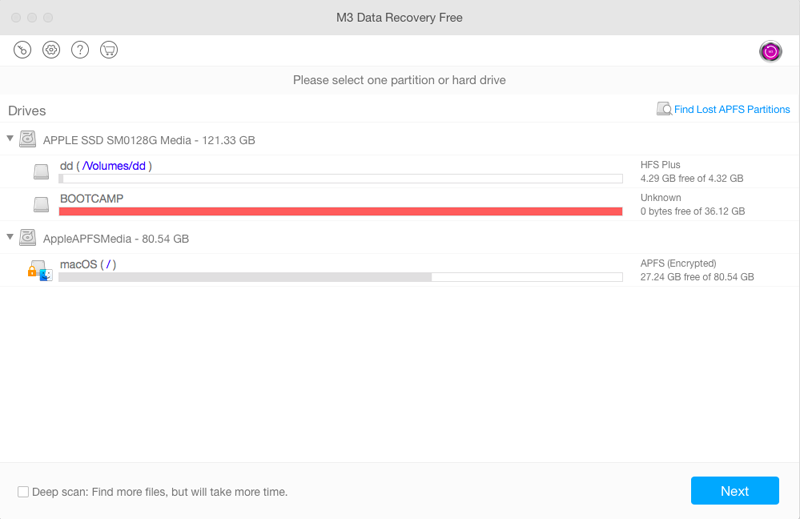 Step 3: Click "Find Lost APFS Partitions" in M3 Mac Data Recovery.
Step 4: Select uninitialized AppleAPFSMedia and click Next to find previously existing APFS partition.
Step 5: Once the previously existing APFS partition is found, please select it and click Next to scan lost data. If the APFS drive is encrypted, the password is required at this step.
Step 6: After the lost data found, we can preview them or click Recover to recover them.