Mac won't boot into recovery mode, how to fix it?
What is Mac recovery mode?
Mac recovery mode is part of the built-in recovery system of your macOS. You can boot your Mac into macOS Recovery mode and use its utilities to restore from Time Machine Backup, reinstall macOS, get help online, repair or erase a hard disk and more.
Mac Recovery Mode options:
Restore From Time Machine Backup: Restore your Mac from a Time Machine backup.
Reinstall macOS (or Reinstall OS X): Download and reinstall the Mac operating system.
Get Help Online: To access Apple's support website to find help for your Mac.
Disk Utility: Repair or erase a disk using Disk Utility.
Mac recovery mode not working, how to fix it?
MacBook or iMac Recovery Mode is a wonderful boot choice that allows you to recover Mac. If your Mac cannot boot into recovery mode, there are four solutions you can have a try.
Option 1: Use Time Machine backup
Step 1: Restart your Mac and click on the Options tab during startup.
Step 2: Connect your Time Machine backup drive and wait for a while.
Step 3: Choose the Recovery Drive to boot Mac and click on Use Disk to update the system storage.
Option 2: Use Internet Recovery mode
If you have no idea what to do to resolve Mac recovery mode not working issue, then you can boot your Mac into Internet Recovery mode by holding down Option/Alt-Command-R or Shift-Option/Alt-Command-R at startup. Once complete, you will see the same Utilities screen as the regular Recovery Mode, which gives you the same options to restore your system.
If you want to rescue the data from Macintosh HD, running M3 Data Recovery in Mac Internet Recovery mode is the best choice.
Option 3: Create a bootable installer
Another thing that you can do if Mac recovery mode is not working is to create a bootable installer using the Disk Utility.
Step 1: Go to the Utility window by restarting your Mac and accessing the Options tab during startup.
Step 2: Choose the Disk Utility mode and connect a bootable installer drive with the Mac.
Step 3: Select the drive from the pop-up list and your Mac will restart. Now you can repair your Mac easily so that it can be used like before.
Option 4: Reinstall macOS
If none of the above methods work out, then the last option left will be reinstalling macOS.
Step 1: Press and hold down Command+R keys immediately upon hearing the startup chime. Hold down the keys until you see the Apple logo, a spinning globe or other startup screen. Startup is complete when you see the macOS Utilities window as below: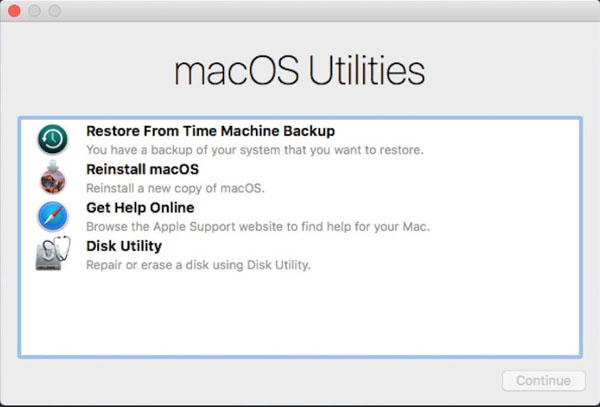 Step 2: Choose "Reinstall macOS" and click Continue.
Step 3: Enter the requested password if you are prompted to enter a firmware password or the administrator's login password.
Step 4: Decide if you want to clean install the system, or just reinstall macOS without losing your original data.
Step 5: Follow the on-screen instructions and choose a disk to reinstall macOS.
Related articles: