How to recover deleted photos on Mac?
Photos, as the witness to people's happiness, merriness and many other precious moments, play an important role in daily life. However, those precious photos could get lost or deleted in daily life, just as the user below.
How do I recover deleted photos from MacBook Pro 2020, my macbook pro with no backup?
You could mistakenly delete pictures from SD cards, USB flash drives, or emptied deleted photos from the Trash when viewing and editing pictures on Mac. And photos could disappear even after a macOS update. You must be eager to know, is there any way to recover the deleted/missing photos from Mac? Is Mac photo recovery possible in reality?
Actually, you can recover photos deleted from Mac with no fuss. How? This page will go into detail about how to restore deleted pictures on Mac.
What you should know before recovering deleted photos?
There are some important things before recovering the lost pictures.
1. Recover the deleted photos as soon as possible. If you are still using that drive after data loss, your deleted photos could be overwritten and maybe you have lost them forever.
2. Don't save new data to the drive where you lost the photos. If you deleted photos or videos from SD memory cards or other drives, do not save any new data to this disk. Otherwise, it will overwrite the lost files and lower the possibility to recover them. So, if you want to recover these files, stop using that storage device right away.
3. Hardware issue is beyond the capability of any photo recovery software. If your storage device is dead or has been physically damaged, it is impossible to recover deleted photos with any photo recovery software. In this case, you need to send the storage device to a local store for assistance in photo recovery.
Losing or deleting photos can cause great panic, especially when you think it is helpless to recover deleted files.
Please calm down! This post will discuss how to recover the deleted photos.
How to recover photos deleted from Photos app on Mac?
Many people like saving photos to Photos app on Mac, preventing personal photos from peeping. Photos for Mac makes it easy to manage your digital images. When you delete some important photos from Photos and want to get them back later, you can recover them in the Recently Deleted photos album in a few steps.
1. Open Photos on Mac and find Recently Delete album in the left sidebar of this APP.
2. Select your wanted photos and then click Recover to get the selected pictures back.
3. After you restore these deleted photos, you will see them in Photos or Memories again.
The deleted photos or videos show the days remaining in Recently Deleted album. Usually, the deleted items will be permanently deleted after 30-day grace period.
Keep in mind that, once you click on "Recover", the deleted photos will return to the date they were originally taken. Also, even though Apple says users have 30 days to recover photos once they've been deleted, it may take up to 40 days for them to be deleted automatically and permanently if you're using iCloud Photos library to share images among your devices and computers.
How to recover deleted photos from iCloud?
However, it happens that you delete some pictures by accident from the Photos album, but can't find the deleted photos in the Recently Deleted album when you want to retrieve them. Can you restore these deleted photos in this case?
Sure. Now, it's time to check your iCloud which is the digital repository of Mac users. People often back up everything including important photos there so that they can retrieve them in 30 days before they're gone for good.
1. Go to iCloud.com and sign in with your account.
2. Click on Photos in the context menu.
3. Click Recently Deleted library at the left sidebar and check if your deleted photos are here.
4. Select the photos you want to restore and click Recover at the upper right corner.
How to recover deleted photos from Trash?
If you clicked "Move to Trash" or have dragged photos directly to the Trash, you can recover these deleted photos from the Trash with a few simple clicks.
Simply open the Trash, right-click on your photos and choose "Put Back". After this easy operation, you will see your deleted photos in the original location where you deleted them.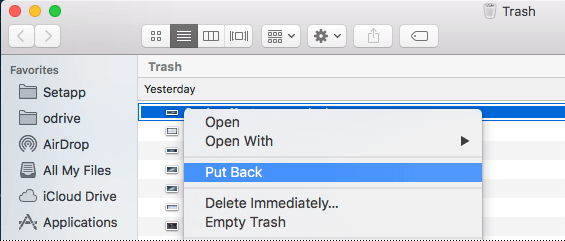 How to recover deleted photos from a Time Machine backup?
The deleted photos aren't in Trash? Hmmm...
It is possible that you have permanently deleted these photos by emptying the Trash. In this case, you need to try you luck on Time Machine backup.
Time Machine is an in-built backup application in Mac which is designed to maintain a regular backup of your data. Usually, it allows you to restore the entire Time Machine backups in macOS or just some personal files and folders. If you have backed up your Mac with Time Machine external hard drive, you can easily recover photos when the last backup was performed.
1. Connect the backup drive to the Mac computer.
2. Open the folder that once contained your deleted files.
3. Click the Time Machine icon in the top left menu bar and select Enter Time Machine.
4. Browse the items in the backup folder by using on screen up/down arrows or using the timeline at the edge of the screen. If you want to find files of older version, using timeline to navigate the files is faster. You will be able to see a lot of snapshots of this whole folder and how the folder changes.
5. Select an item and prese Space bar or double-click it to preview it.
6. Select the file you want to restore, and then click Restore.
How to recover deleted photos from SD card on Mac?
When it comes to digital images, the SD card is the first thing that comes to mind for most photographers. SD cards are widely used to save images in cameras like Canon, Nikon, Sony, etc. As a result, losing photos from SD cards becomes a common situation. For example, you mistakenly deleted the photos that you're satisfied with from the digital camera.
How to recover the deleted photos from SD cards becomes the meat and potatoes of Mac photo recovery. Usually, you will find the deleted pictures in the Trash and you can recover them from the Trash easily in this case. However, if you can't find the photos deleted in the Trash, Photos, or iCloud, these pictures might be permanently deleted.
Besides accidental deletion, important photos are prone to be lost when the SD card is formatted or corrupted for some reasons.
In this situation, you need a Mac photo recovery software to do SD card data recovery.
Mac photo recovery software
When you deleted photos on Mac by clicking "Empty Trash" or "Command + Option + Del" keys, or you lost photos from external drives becasue of disk corruption, you can recover your files with one of the best Mac photo recovery software - iBoysoft Mac Data Recovery.
iBoysoft Mac Data Recoveryis easy-to-use and powerful photo recovery software. It can recover JPG (or JPEG), PNG, GIF, TIFF, PDF, and many other image formats.
This Mac photo recovery software can also recover deleted digital images from SD cards, internal hard drives, external hard drives, USB flash cards, memory cards, CF cards, etc. What's more, it can also recover documents, videos, audio files, emails, etc.
How to recover deleted photos with iBoysoft Mac Data Recovery?
Then, exactly, how to recover missing photos on Mac? Here is a tutorial to recover deleted photos on Mac.
1. Download, install and launch iBoysoft Mac Data Recoveryon your Mac.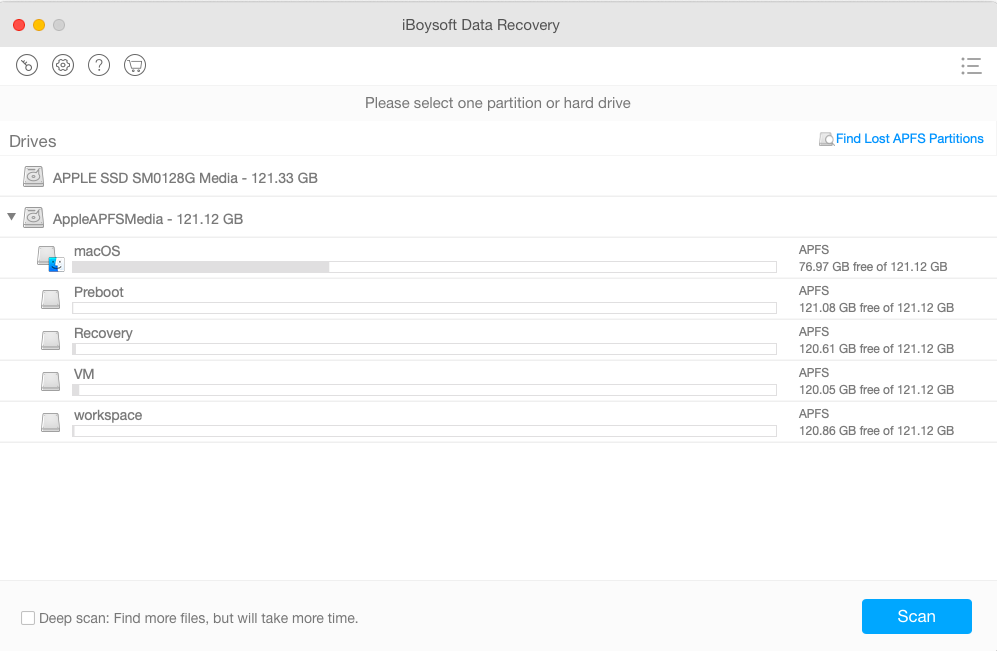 2. Select the drive where you lost photos and click "Next" to scan for all data on this drive.
3. Double-click to preview the scanning result and choose files you want to get back.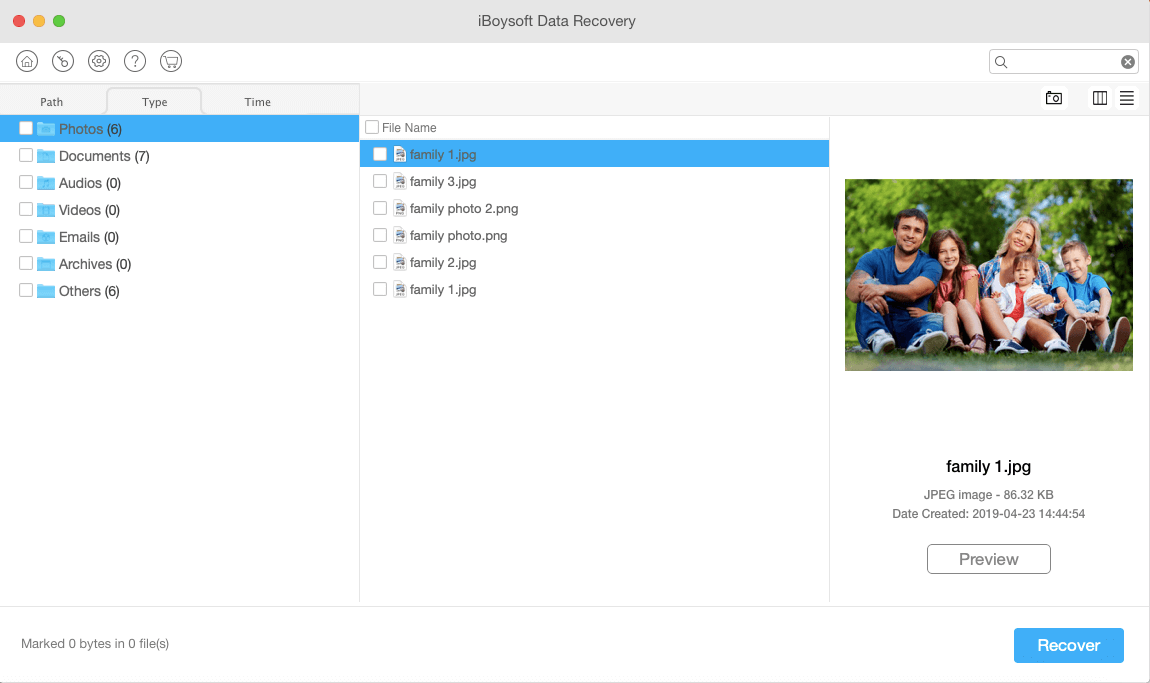 4. Click "Recover" to retrieve the lost photos and save them to a safe place.
iBoysoft Mac Data Recoverycan also recover lost data from formatted, corrupted, unreadable, unmountable drives, hard drive, external hard drive, SD card, USB drive, etc.
Conclusion:
Photos get lost or disappeared for various reasons. In some situations, such as the external hard drive is corrupted, formatted, unreadable, or unmountable, it is possible to recover the lost photos from external hard drives with professional photo recovery software like iBoysoft Data Recovery. But in some cases, data recovery is difficult or even impossible. For example, the hard drive is dead or failed, or you had ever dropped this hard drive or had done other physical damages to it. On this condition, your last hope would be a local data recovery lab.