How to enable NTFS write support on macOS & Mac OS X?
Does Mac OS X Yosemite natively support writing to NTFS drives? MacBook Air, OS X Yosemite (10.10)
By default Mac OS X has Microsoft file system NTFS read-only. OSX's default NTFS driver has the option to write to NTFS drives. For some reason, it has been disabled by default. The process to enable it is fairly technical and is not supported by Apple. OSX users are generally encouraged to use FAT32 or exFAT file systems for sharing files with Windows. However, there are proprietary software like M3 NTFS for Mac that can enable NTFS write support on macOS.
M3 NTFS for Mac is a professional NTFS driver which allows you to read and write NTFS external hard drive on macOS. M3 NTFS for Mac provides easy-to-use and intuitive UI to make NTFS read-write operations very simple under Mac OS X 10.11/10.10/10.9/10.8/10.7/10.6.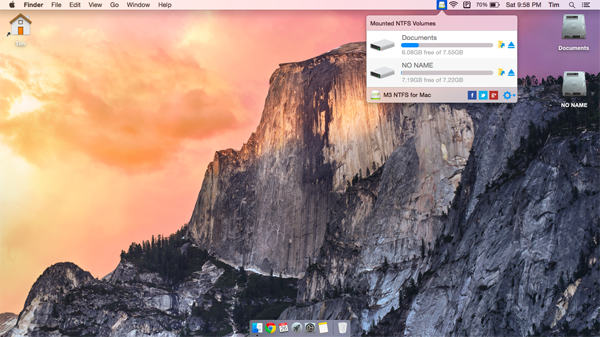 How to write NTFS formatted drive on macOS?
Step 1: Download, install and launch M3 NTFS for Mac.
Step 2: Insert NTFS formatted drive (Including external hard drive, USB flash drive) into Mac computer.
Step 3: Click Open icon to open NTFS formatted drive with M3 NTFS for Mac.
Step 4: After opening NTFS formatted drive, you can read and write NTFS formatted drive like HFS+ drive on macOS.
Related articles: