How to Fix a RAW USB Drive and Recover Data?
USB drive is one of the most used and versatile external storage devices on your computer. If you face a corruption issue, you've come to the right place to find out how to fix a RAW USB drive so you can recover the information and data you need, all while formatting RAW USB drive to FAT32.
RAW USB Drive Issues and Problems
You know you're having an issue on a RAW USB drive when some of the following computer problems begin. These issues include but aren't limited to:
Your USB drive shows RAW file system or unknown in the disk management
Your RAW USB drive is write-protected, and you can't format it
Disk Management shows the wrong capacity for the USB drive
There is no file system on the USB flash drive
The USB flash drive is not accessible, the parameter is incorrect.
The USB drive is showing 0 bytes in both used space and free space drive properties
The USB drive will frequently not be working or won't be recognized in Windows 10, 8, or 7. Often you'll notice Windows can't complete formatting the USB drive. When you have one or more of the above RAW USB drive errors, it's time to figure out a way to recover the data and make them functional once again with a RAW USB drive to FAT32 conversion.
How to fix a RAW USB drive in Windows 10, 8, or 7
There are 6 methods to fix a RAW USB drive and recover data:
Fix 1: CHKDSK Fix RAW USB Drive Without Formatting
If you work in Windows 10, 8, or 7, there is a way to fix a USB drive RAW format. It may sound a bit contradictory, but there are times when you can fix a RAW USB drive without formatting. You do it through Windows built-in repair tool called chkdsk.
The chkdsk tool verifies your file system's integrity by a volume. It then fixes the logical file system errors within the integrity of a volume. Since one of RAW USB drive problems is caused by file system corruption, the chkdsk can correct this type of file system error.
As mentioned above, the chkdsk can also correct the RAW USB drive without formatting. To do this accurately, you need to follow the below steps on the RAW USB drive and chkdsk command.
On your Windows computer make sure your RAW USB drive is connected
Type in CMD in the taskbar of your Windows search bar
Choose "Run as Administrator" once you right-click on the cmd.exe listed in your search results

Type chkdsk X: /f when you see the command prompt in the CMD window and press Enter
Chkdsk verifies and fixes your file system errors, and once the RAW USB drive is set, you can access your USB drive once again. There are times when the chkdsk fails to fix a RAW USB drive. When that happens, you'll see something like, "The type of the file system is RAW, chkdsk is not available for RAW drives".
When you see that message, you know you're going to have to try alternative methods to help you recover your RAW USB drive data and information.
Fix2: Recover Data from RAW USB Drive
When you have essential data on your RAW USB drive that chkdsk can't fix, there are some data recovery methods you need to know about that can help you retrieve as much data as possible. iBoysoft Data Recovery is a professional USB flash drive data recovery software that enables you to recover lost data from a RAW USB drive.
iBoysoft Data Recovery can recover deleted files from USB drive, recover data from a formatted USB drive, recover data from a RAW USB drive, recover data from a corrupted USB drive. iBoysoft Data Recovery is compatible with Windows 10, 8, 7 and XP as well as the Windows Server 2016, 2012, 2008 and 2003 Operating Systems.
iBoysoft Data Recovery can even recover your deleted or lost files from a hard drive, external hard drive, flash drive, SD card, pen drive, and USB stick.
Steps needed to recover data from a RAW USB drive:
The first thing you want to do is install the iBoysoft Data Recovery software on your Windows computer. Make sure you connect the RAW USB drive to your Windows computer as well and then Launch iBoysoft Data Recovery. Once iBoysoft Data Recovery is up, select the Data Recovery module on the dashboard or main interface.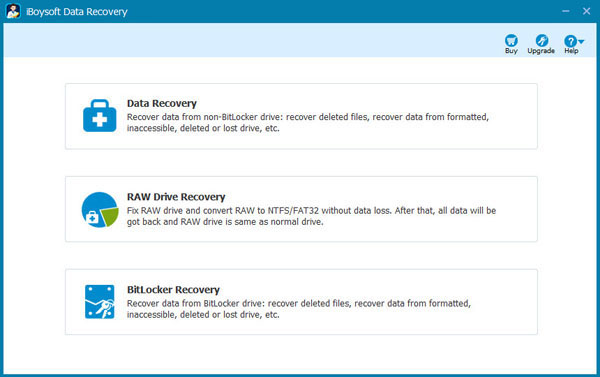 If for some reason, the USB drive is BitLocker encrypted, you can run the BitLocker Recovery module to help recover lost data from a BitLocker encrypted USB drive. Select RAW USB drive when the drive list comes up and click next to scan for the lost data.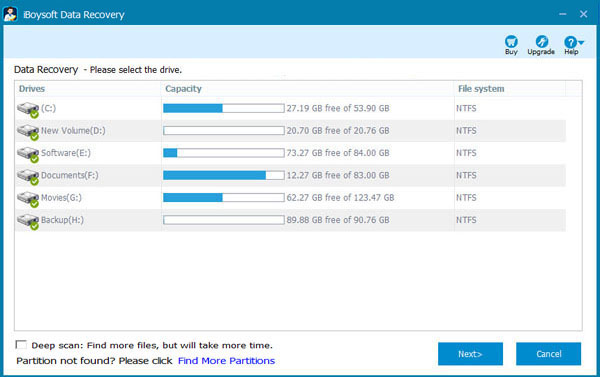 You can preview the documents, photos, audios, and videos once the scan is complete and determine if your lost files are recoverable.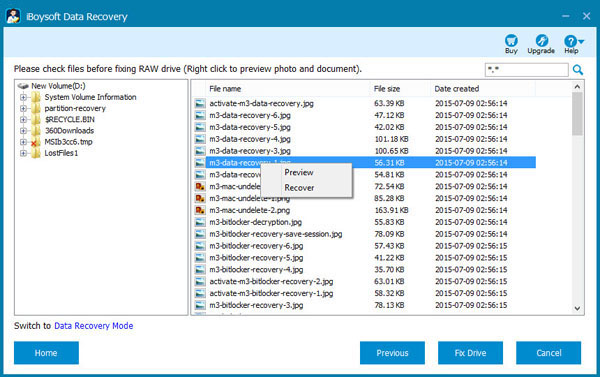 Sometimes some files are there, and some are missing, and you do have the option of going back to the Data Recovery module and doing a deep scan.
Once you select all the files you want to recover and save, you can format your USB drive to FAT32, and it is usable again.
Fix 3: Format RAW USB Drive to FAT32
There is a formatting method you can use with Windows Explorer, Disk Management, diskpart command, or 3rd-party format tool after recovering data from that USB drive. You can start the format RAW USB drive using Windows Explorer.
Step 1: Double-click My Computer or This PC on your desktop to open up Windows Explorer.
Step 2: Right-click on the USB drive and choose the "Format" option.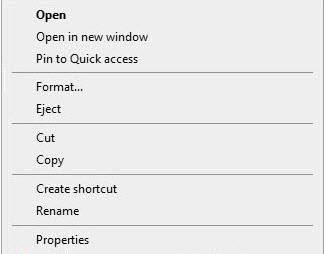 Step 3: Choose the FAT32 File system and set any other information needed like volume label, allocation unit size, format options, etc. about the process you need.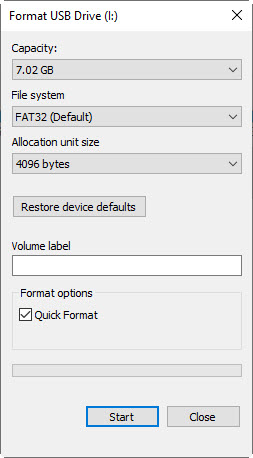 Step 4: Click Start to begin formatting the USB drive to FAT32. When you select default, it is a quick format readily available that allows for a full format.
Step 5: In the warning window, click "OK" to start formatting your USB drive.

Fix 4: RAW USB Drive Recovery Using Disk Management
Every Windows system has a disk management tool that's free and designed to help users deal with the most common disk partition relation issues and jobs. You can also choose to use Disk Management when formatting USB drive to FAT32.
1. Again go to My Computer on the desktop and right-click on the icon.
2. Select Manage and then Storage and then Disk Management until you find your RAW USB drive.
3. Right-click on your RAW-USB drive and select format. Then you're able to select the FAT32 file system and click Ok.
It's at that juncture the RAW USB drive to FAT32 recovery begins, and the FAT32 file system created should work well with your current USB drive. If for any reason, Windows can't complete the format on a RAW USB drive, diskpart command can often help.
Fix 5: Fix RAW USB Drive Using Diskpart CMD
When you're using Diskpart, there's a built-in command line designed for typical disk partition jobs. The first thing you do is type in "diskpart" in the Taskbar search box. Right-click on the diskpart.exe and select "Run as Administrator" so you can run diskpart.exe.
You'll see a Diskpart prompt, so you type in "list disk" and press enter. You'll be able to type in "select disk X" command and once again press enter. The X isn't an X.
When you see select disk X, you put in the disk number of your RAW USB drive. You should be able to type "list volume" on the command bar and press Enter. Then you select Volume X (again replacing X with the volume number of your RAW USB drive) and press Enter.
Now you type format fs=fat32 label=volume label quick, and press Enter to execute and format.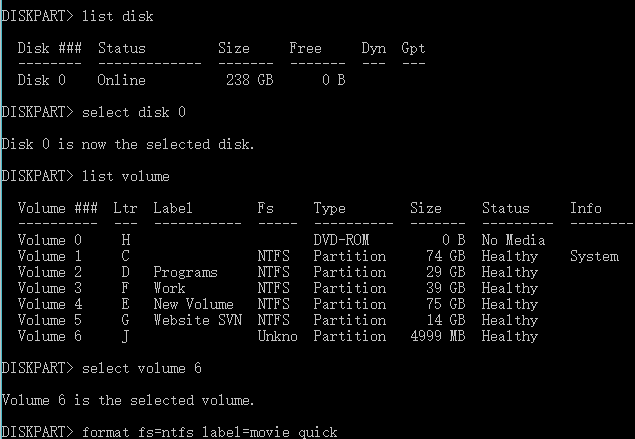 Fix 6: Using a Production Tool to Repair RAW USB Drive to FAT32
Sometimes the RAW USB drive problem is a hardware issue, and if that's the case, you need to go to your manufacturer's website and find a production tool that will work on your USB drive for a factory reset.
You'll know this is the case if your USB drive has an incorrect capacity listed in Disk Management like a 64GB, which lists as 31MB.

Another problem you may see is Windows being unable to complete the format on a RAW USB drive or tell you the USB drive is write-protected and cannot be formatted.
Frequently the USB drive isn't recognized, which means the disk management system shows disk unknown not initialized, no disk space. Most people don't like to hear this, but if that happens, it may be best you send your USB drive to a data recovery specialist rather than try to fix it yourself.

How Can You Make Sure You Never Have a RAW USB Drive Issue Again?
There are three steps you can take to help ensure you avoid most of the RAW USB Drive problems or issues.
1. Back up Your Data
You must back up your data, so if you do have a RAW USB drive issue again, you can access your latest and greatest data and information that's stored on the USB drive. Your regular backups can be done with free software like; Aomei Backupper Standard, Macrum Reflect Free, Paragon Backup & Recovery Free, and more.
2. Good Working Habits Can't Be Beat
Try always to safely eject your USB drive after you use it to prevent data loss. You do have the option of unplugging your USB drive. But by doing so, you're contributing to the most common reason for USB Drive RAW file system problems.
3. Advance File Systems Are Worth It
If you can avoid it try not to use the FAT32 or exFAT file system. You can be better served by formating your USB drive to NTFS file system. It's only NTFS that gives you flexibility in filename length and directories.
NTFS also gives you security control, and you're chances of having a complete recovery in case of corruption have tremendous success.