How to recover lost data after diskpart clean or format?
Data lost after diskpart clean and format
I lost my data when installing an OS. I got a bootable USB with Cloud Ready and plugged in my target drive, the installer does not show any drive/partitions. Then I went into diskpart in Command Prompt and ran 'clean' on the drive that CloudReady was installed on and then formatted the drive to an NTFS partition.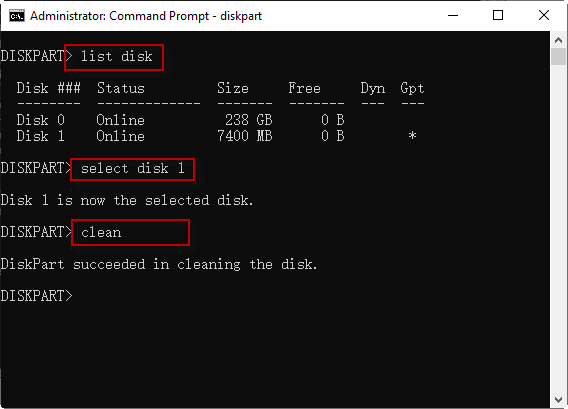 What to do after data lost by diskpart?
When you realize that you lost data from a partition, avoid using that partition. Using the partition can cause you to lose the data permanently because you could overwrite the previous data.
If you can't restore the data yet, use another partition for your operations. Then, you can use the computer while maintaining access to your lost data.
When you're ready to recover data lost by Diskpart Clean and Format commands, you can go back to the partition in question. Make sure you understand the steps to recover your data so that you can minimize any permanent loss.
Recover data lost by diskpart clean with iBoysoft Data Recovery
If you use Diskpart, you need to know what commands do what. But even then, things can go wrong and you can delete files on accident. Fortunately, you can recover data lost by Diskpart Clean with a tool like iBoysoft Data Recovery.
Then, you can go through the files you deleted, and you can preview them before recovering them. However, make sure you take other steps to protect your data for even more security.
Do you need a data recovery tool? Download iBoysoft Data Recovery today.
How to recover data lost after diskpart clean?
Diskpart clean command clears the confirguaration information or all information off the disk. In other words, you lost partitions after using diskpart command.
For example:
Disk1 has one partition before using diskpart clean.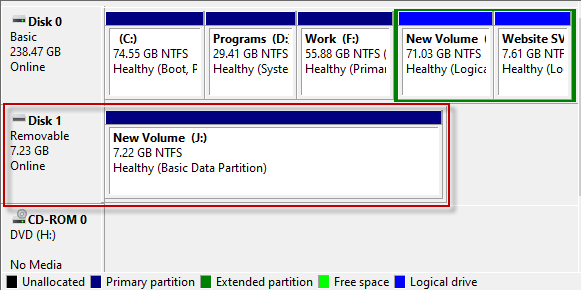 Afer using diskpart clean, disk1 lost the partition and becomes unallocated space. Of course, the data stored in this partition has lost.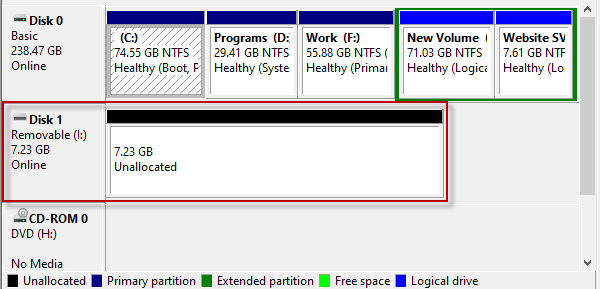 Tutorial to recover lost data after diskpart clean
Step 1: Install iBoysoft Data Recovery if you haven't already.
Step 2: Once you install the program, launch it and select the Data Recovery module.
Step 3: Click on "Find More Partitions" at the bottom of the screen.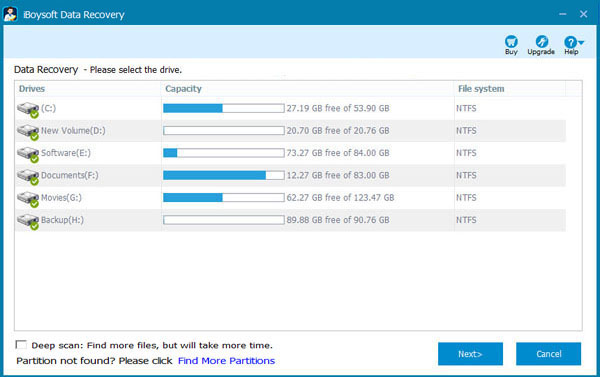 Step 4: Select a hard disk and click Next to initiate a scan.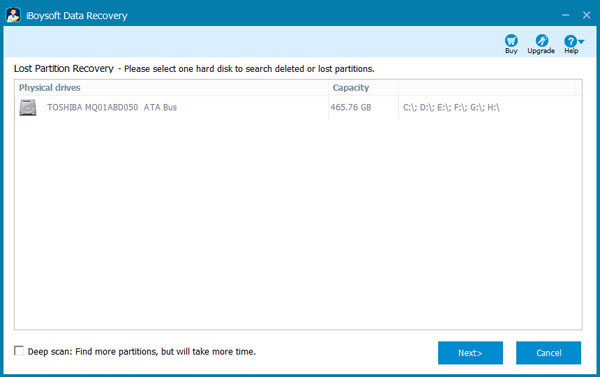 Step 4: Then choose the partition you lost and click Next to extract the data.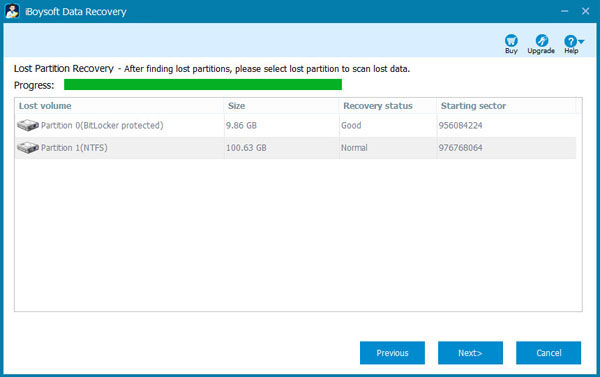 Step 5: After scanning, then preview any files that you want to recover.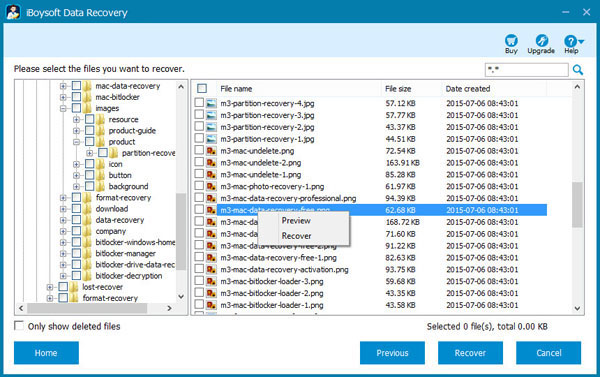 When you preview the files, you can listen to audio, view photos, and look at documents.
Step 6: Select the files you want, and click on Recover.
If you did mean to delete some files, you can leave them as-is, and you can get back the files you need.
How to recover data lost after diskpart clean and format
For example:
USB drive (Disk1) has one partition with FAT32 file system before using diskpart.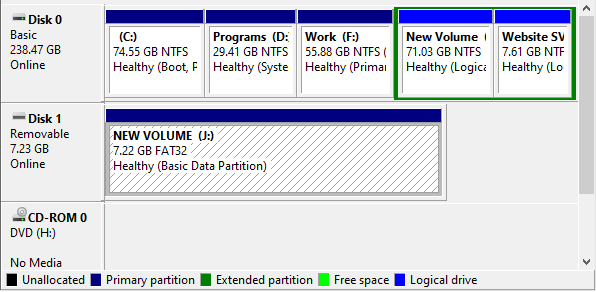 After using diskpart clean command, USB drive lost its partition and becomes unallocated space.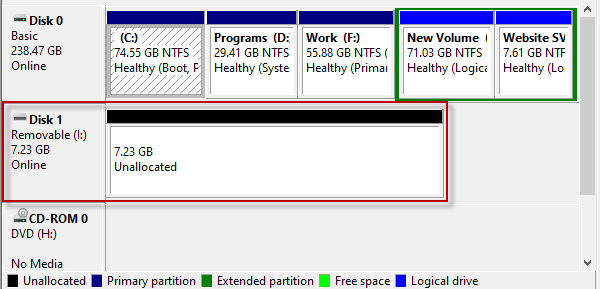 After using diskpart format command, USB drive has been formatted to NTFS file system from FAT32 file system.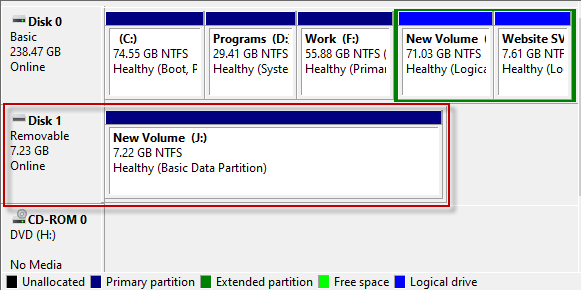 Tutorial to recover lost data after using diskpart clean and format command
Step 1: Make sure you have installed iBoysoft Data Recovery on your computer.
Step 2: Launch iBoysoft Data Recovery, go to the Data Recovery module.
Step 3: Then click on "Find More Partitions" at the bottom.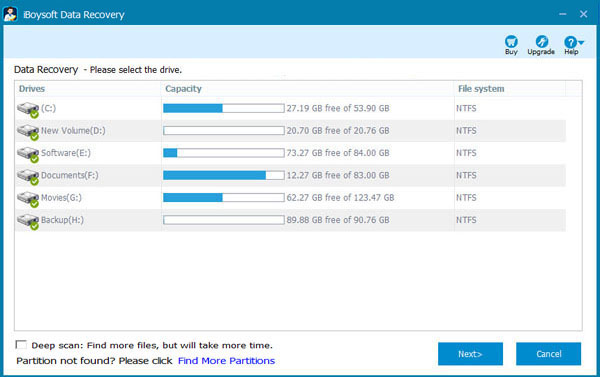 Step 4: Choose the hard disk you want, check the box next to the Deep scan option and click on Next to run a scan for the partitions you lost..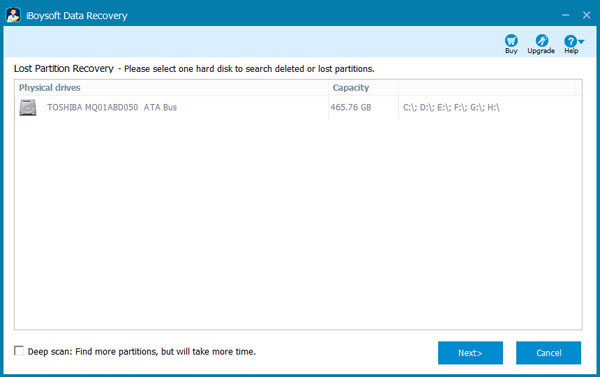 Step 5: One partition should say the recovery status is Good, and you'll want to select that one before clicking Next to extract the data.
Step 6: Now, you can view the lost files and preview the files to make sure you choose the ones you need.
Step 7: Select the files to keep and click on Recover.
While the steps are very similar to after using the Diskpart Clean command, the differences matter. Make sure you know which command you used so that you can follow the right operations.
Tips to avoid losing data
While knowing how to recover data lost is important, you should also know how to avoid the situation in the first place. That way, you won't have to take time to go through your files and recover them each time.
Whether you want to use Diskpart often or not, protecting your data is essential. You never know when you may not be able to access your computer.
By taking precautions now, you can ensure you will always be able to get to your most important files. Here are a few tips to help protect your data.
Use backups
In case you lose data to Diskpart Clean and can't get it back, you should have a backup system in place. You can keep your data in a few places, such as the cloud, an external hard drive, a USB drive.
Back up your files to at least one source, if not more. The cloud is a convenient option if you use your computer in different places, but a hard drive might be your first choice.
Either way, back up your files at least once a month if not once a week. Then, you'll have a recent copy of everything available on and off your computer.
Update your computer
Another way to protect your data is to always update your computer when an update is available. Updates usually fix problems with security and other file vulnerabilities.
By using the newest version of an operating system, you can reduce the chances of an issue with the system. Make sure you also update any software you use to get the same benefits.
While an older version may work okay, your files might not be as safe. When you back up your files, check for any available updates and do them to keep your computer running well.
Take advantage of undo
When you delete a file, consider if there's an undo option. In some cases, you can undo a deletion if you catch it right when it happens. Then, you can make sure you don't get rid of a file you need.
Now, this doesn't work if you go through your files quickly. You may delete something without catching the issue. In that case, you may need to recover the files using iBoysoft Data Recovery.
Still, the undo feature can be useful when working with files individually. If you can't get something back using undo, you can check the recycle bin to see if your file is there.
Install virus protection
Of course, computer viruses are different from accidentally using the wrong commands in Diskpart. However, virus protection is another crucial tool to help protect your data.
You never know when a virus may infect your computer and corrupt your files. Use virus software to check for viruses or threats, so you can eliminate a problem if one occurs.
Consider a few different anti-virus programs to determine which is best for you. That way, you can choose the program that's best for your computer.
Implement safe storage
When you aren't using it, store your computer somewhere safe and dry. Keep it away from kids or other family members so that you can minimize the chance of damage to your computer.
However, keeping your computer safe can also reduce the chances of someone hacking into it. While you may trust people, you never know who might try to get into your computer.
If someone does get into your computer, they may cause you to lose your files on purpose or by accident. Find a safe place to keep your computer and use a strong password to keep others from getting into it.
Use a surge protector
When determining where to store your computer, consider getting a surge protector. You can use the surge protector when charging your computer to keep it safe from power surges.
Anything from a storm to a regular home appliance can lead to a power surge. If the power surge is extreme, it could damage your computer and make it hard or impossible for you to access files.
Fortunately, you can find surge protectors relatively easily, and you can plug them into an outlet. The step may sound unnecessary, but it's better to be safe than sorry.
Research actions
Before you do anything new with your computer, make sure you research the steps for the action you want to take. This is especially important when you use Diskpart or any other software.
You want to make sure that you can delete old files without removing files you want to keep. Check out tutorials for the software, and check out a data recovery program.
Learn how to use the data recovery program in case you use the wrong Diskpart command. That way, you can get your data back quickly and easily.
What is diskpart clean and format command?
The Diskpart Clean can delete volume or partition from a computer disk. Diskpart Format can help you clear data and create a file system.
Meanwhile, the Diskpart Clean command will remove data, partition, and signature from a drive. Both commands can be useful when clearing your computer, but you need to be careful.
If you don't know how to use Diskpart commands, you can lose any type of data on your computer. You may lose important pieces of data, so you should understand what you're doing.
When you need to get rid of data, consider using another method if you haven't used Diskpart. That way, you can get rid of the data you want without sacrificing what you need to keep.
However, you can recover lost data if you use Diskpart and something goes wrong. Consider what you should do when this happens to help in recovering personal data.