Best TrueCrypt alternative for Mac: Enable Microsoft Bitlocker on Mac with M3 Mac Bitlocker Loader
March 09, 2017
Posted by Admin
TrueCrypt for Mac
TrueCrypt was a free and open-source disk encryption utility first launched in 2004. It can create a virtual encrypted disk within a file, or encrypt a partition or the whole storage device. Once encrypted, the data stored on a partition requires a password to access. TrueCrypt was a popular means of disk encryption on both Mac OSX and Windows operating systems with millions of users.
Why need TrueCrypt alternative for Mac?
Truecrypt.org released an official announcement on truecrypt.sourceforge.net while containing the following messages:
"WARNING: Using TrueCrypt is not secure as it may contain unfixed security issues.
This page exists only to help migrate existing data encrypted by TrueCrypt.
The development of TrueCrypt was ended in 5/2014 after Microsoft terminated support of Windows XP. Windows 8/7/Vista and later offer integrated support for encrypted disks and virtual disk images. Such integrated support is also available on other platforms (click here for more information). You should migrate any data encrypted by TrueCrypt to encrypted disks or virtual disk images supported on your platform."
It is not only for Windows users, but for all of you who are using TrueCrypt, including Mac OS X and Linux users. Windows users can transfer to BitLocker, then how about Mac users?
TrueCrypt alternative for Mac: Bitlocker for Mac
Truecrypt.org has suggested Windows users to transfer to Bitlocker, but Microsoft didn't release Bitlocker for Mac OS, how about Mac users? With the help of M3 Bitlocker Loader for Mac, you still can use Bitlocker if you are a cross-platform (Windows and Mac) user.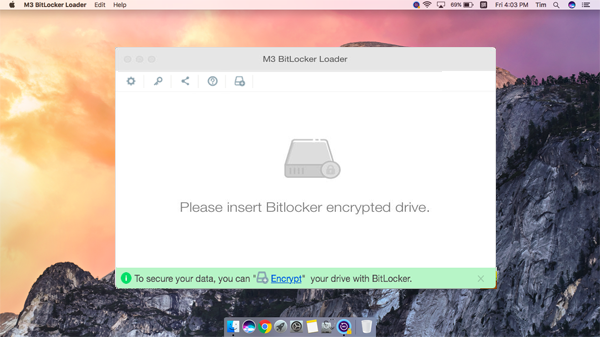 M3 Bitlocker Loader for Mac is a brilliant and smart program which can open/access/mount Bitlocker encrypted external hard drive and USB flash drive on Mac computer, but you need to create a Bitlocker encrypted volume on Windows computer firstly. After that, you can read and write Bitlocker encrypted volume with M3 Bitlocker Loader for Mac under Mac computer.
Notes: M3 Bitlocker Loader for Mac requires a Bitlocker encrypted drive in good condition. If your Bitlocker encrypted drive is corrupted, please try Bitlocker data recovery software: M3 Bitlocker Recovery in Windows to recover data from corrutped Bitlocker encrypted drive.
If I am a Linux cross-platform user, how to access Bitlocker encrypted drive in Linux?
TrueCrypt alternative for Linux
TrueCrypt alternative for Linux - Dislocker a free tool which is designed to read BitLocker encrypted partitions under Linux/Ubuntu. Dislocker is not easy-to-use if you are not familar with computer technology.
Detailed steps: how to access Bitlocker encrypted drive in Linux?
Related Bitlocker for Mac solution: