M3 BitLocker Loader for Mac App Store Version Online Help
Want to directly read/write BitLocker encrypted drive and save time?
Download the website version of M3 BitLocker Loader for Mac now.
Due to sandboxing rules on Mac App Store, App Store version can only read BitLocker encrypted drive from Disk Image (.dmg), but the website version can directly read BitLocker encrypted drive without problem
How to use M3 BitLocker Loader for Mac App Store version?
M3 BitLocker Loader for Mac is a professional BitLocker encrypted drive unlock software for Mac users, it can help to read and write Windows Vista/7/8/10 BitLocker protected hard drive, open BitLocker encrypted USB flash drive, unlock BitLocker encrypted external hard drive and then export the data to your Mac computer from BitLocker encrypted drive.
Supported Operating Systems
macOS 10.15, 10.14, 10.13 (High Sierra), 10.12 (Sierra) and Mac OSX 10.11 (El Capitan), 10.10 (Yosemite), 10.9 (Mavericks), 10.8 (Mountain Lion)
Supported file systems
NTFS, FAT16, FAT32 and exFAT file systems.
Supported storage devices
Hard drive, external hard drive, USB drive, flash drive, pen drive, memory card, CF card, etc.
How to use M3 BitLocker Loader for Mac to unlock BitLocker encrypted drive?
Step 1: Select the disk image of BitLocker encrypted drive you want to unlock and then click "Unlock".
Tips: How to make a .dmg file: Open Applications -> Utilities -> Disk Utility, select the BitLocker encrypted drive and then select New Image to make a disk image file: .dmg.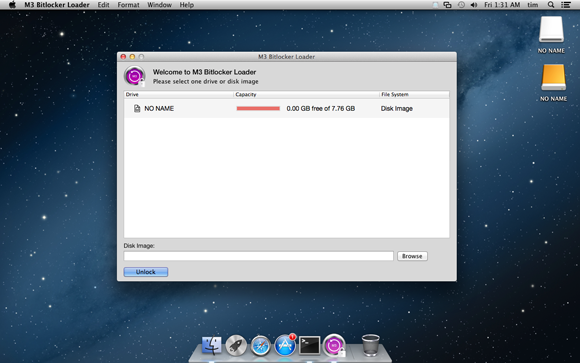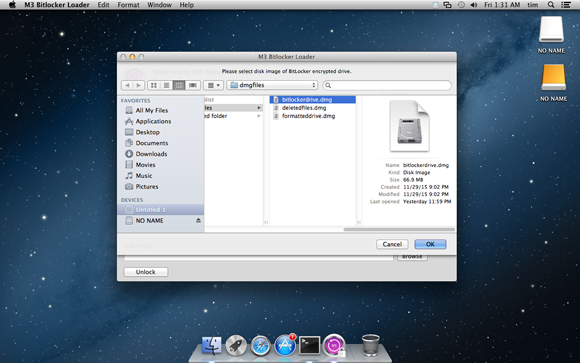 Step 2: Enter the password or 48-digit BitLocker recovery key and click "Ok" to unlock BitLocker encrypted drive.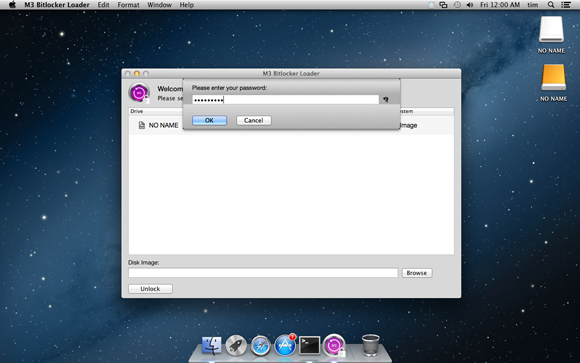 Step 3: After unlocking BitLocker encrypted drive on Mac computer, select the files you want to export and click "Export" to save them.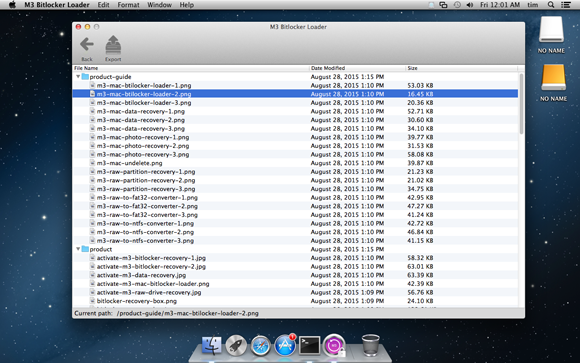 FAQ
1. When I plug BitLocker encrypted drive into Mac computer, it prompts: The disk you inserted was not readable by this computer. There are three buttons: Initialize, Ignore, Eject, how to choose?
Please choose click Ignore button. This is a message poped up by Mac computer. We will improve it in future version.
2. When I run M3 BitLocker Loader for Mac, I receive warning message: "M3 BitLocker Loader.app" is damaged and cannot be opened. You should move it to the Trash.
By default, Mac OS X security allows only the apps that are downloaded from the Mac App Store or from Mac certified developers. To fix this error, please open System Preferences -> Security & Privacy -> General tab -> Change the Allow apps downloaded from: option to Anywhere.